Some movies are interesting and inspiring and instigate viewers in a different way, to jumpstart and do something productive. Movies can inspire and motivate, too and add values to the lives of people.  Here you will see a list of 16 Motivational Films for anybody.
Here today at snail we have listed 16 Motivational and Inspirational Films for Entrepreneurs to Watch, the interesting and inspiring films for entrepreneurs or business enthusiasts. I have read other prominent blogs that published a list of motivational movies, those lists remind of me some of the amazing movies that inspired me some time ago but meanwhile I forgot about them. So I thank those websites for reminding of those movies.
But these movies are of my own choice, movies that I found inspiring and motivational. Not necessary that all are directly business or entrepreneurship related. Some are about survival in difficult situations, which IS itself the primary or basic condition of entrepreneurship. Entrepreneurship is, about survival and persistence and consistency, about not giving up even in the hardest days when surviving is difficult.
Some don't like the stories of survival and struggles, they just want to hear stories of a happy ending and becoming rich billionaires. Entrepreneur story is different, where the happy ending or success is not the best part but the struggle is. Those who walk on the path of thorns are always more admired than those who are born with a silver spoon in their mouths.
16 Motivational and Inspirational Films for Entrepreneurs are
The true story of how Ray Kroc (Michael Keaton), a struggling salesman from Illinois, met brothers Mac (John Carroll Lynch) and Dick McDonald (Nick Offerman), who were running a burger operation in 1950s Southern California and turned their business into a leading franchise in the world of the food business.  This film got 7.2 out of 10 in IMDb and rotten tomatoes gave it 84% score out of 100.
The best thing about the character Ray Kroc in the movie, from an employee's point of view, is that he encourages his employees, asks the employees' names and remembers them and their performance at work. That is an important leadership trait. 
IMDb trailer
First it started as a local students' networking site where their pictures and video were uploaded. Mark Zuckerberg, a student of Harvard University creates this social networking site that would later become known as Facebook and become a phenomena. While in this process Mark loses old friend (and co founder  in his business who helped him finance in the beginning and later who is unjustifiably squeezed out of the project), makes new friends who help him grow his business more, gets involved in ugly legal fight, gets sued by two brothers who claim that he stole the ideas they initiated .
The Social Network (2010) is directed by David Fincher and written by Aaron Sorkin. Adapted from Ben Mezrich's 2009 book The Accidental Billionaires: The Founding of Facebook, A Tale of Sex, Money, Genius, and Betrayal.
With that unique kind of storytelling and starting that showed soap operas of 70's style and flashbacks and the team of Director
David O. Russell'
s that includes actors like Robert De Niro, Jennifer Lawrence and Bradley Cooper, this film had plenty of potentials to live up to the expectations, but the rather awkward and abrupt jump to the concluding remarks of the lead protagonist's success in business career and a shortcut rout to show the happily ever after, perhaps failed to take this film to a place where it was supposed to reach. It is not the easy success of a person that   our minds are  attracted to; rather, to the story of the journey or the struggles one goes through to reach that point. That is because, we all struggle. And hearing another person's struggle stories (not success stories) is what actually inspires us more, "If he or she can do it, why can't I?"
 Joy,  is  an inspiring film especially for the women entrepreneurs. Every girl has a dream when she is a child. She believes in fairy tales,  king, queen , kingdoms. She nourishes her dreams and fantasies. Later, as she grows up, life around her grows to be complicated and more and more she gets  wrapped up in webs and wires. And somehow she leaves her childhood dreams, ambitions way behind and at one point of time she forgets to remember how her childhood was, how she was before life happened to her. A girl who once upon a time dreamed to have  her own kingdom, one day becomes a grown up woman, then she gets busy all time in cooking and cleaning all day for everyone in the family, takes care of everyone and never gives attention to herself and keeps ignoring her dreams and inner thoughts, she doesn't pay attention to herself and her wants, hardly she can get to lay on her bed before the nightfall and if she gets some free time sometimes, she looks bluntly at the tv playing dull soap operas while she could do more than that. David O. Russell's film Joy was as we understand, made with a purpose to jostle that long lost dream buried in the core of the grown up women who were once little girls, to knock them at the door of their minds, to remind them that it is never too late to do what they wanted to do, to become what they wanted to become, to remind them not to wither in their everyday struggles of life but to make their own identity and fulfill their purposes in this world.
When Eddie Morra is facing financial trouble, relationship breakup, difficulties to write he meets his ex wife's brother who offers him a drug that has the capability to enhance mental ability and use the brain's full capacities. Eddie's sudden rise attracts the attention of a tycoon (Robert De Niro)and he intents to use this super human power for his own business gain. While in this process of going to the top Eddie makes some enemies meanwhile and faces some terrible side-effects of drug and a continuous supply threaten to collapse Eddie's stairway to the kingdom of the clouds.
If you watch this movie you will understand why it is one of the most inspiring and motivational entrepreneurship movies. This movie says about a drug. Drug is just a metaphor here. "Humans already have the capabilities with themselves and they do not need any drugs to use that." this is  the hidden message of the film. How we know it? Simple. See how messy Eddie is. He doesn't wash his hair, his face, his clothes. And his apartment… After taking drugs when Eddie goes to his apartment he finds everything messy and filthy, he asks himself, "Who would wanna live in a place like that?" Old newspapers, dirty trashes, food scraps, dirty utensils here and there everywhere in the room. He has been living like this all the time. He just never knew it, never saw it or simply ignored as if it didn't matter.
Now just look around yourself. Do you live in a tidy environment or not? Do you clean the plates and coffee mugs after eating and drinking food and stuffs? Do you? If you don't, then it's a wake up and a big huge KNOCK for you. Go clean your room and wash. All we need is consciousness and to be present, mind what we are doing, not to just drift along. We don't need to eat drug for that. We don't need drug to wash ourselves and wash our plates after we eat. We have everything. We just need consciousness and the willingness to use what we have.
 Every moment is a chance to turn it around.
Struggle story of a successful person inspires us as nothing ever does. This is the inspiring  story of the legendary rapper Eminem. His struggles with poverty,  troubled life in ghetto,  alcoholic mother, everything has been shown in the film. His only way out of the violent city on 8 mile and torturous life he's living in was with his talent in rapping. When there was no sanctuary left, rap helped him. After touching millions of hearts with music, Eminem made a place in hearts of billions with 8 mile.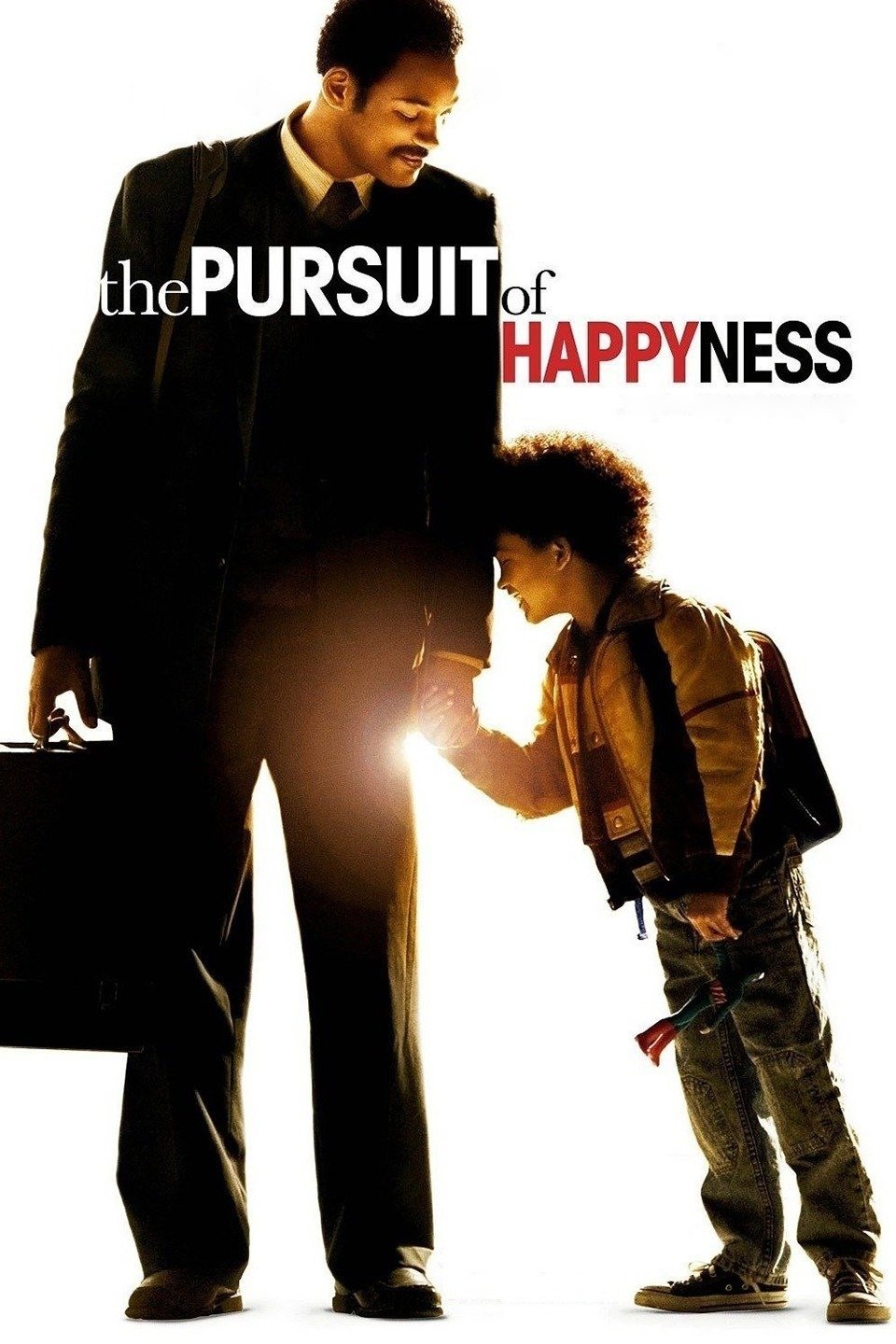 Based on a true story about a man named Christopher Gardner who invested a massive amount in a device known as a "Bone Density scanner".  However, he fails to sell those as those are of higher quality and better technology than products that are currently available at a much lower price. As Gardner struggles to figure out ways to sell the devices, his wife leaves. One after another, he loses his house,  bank account,  credit cards. Gardner is forced to live out in the streets with his son, to bear the daily expenses he desperately needs to find a  job; he gets a job of a stockbroker, but before he can receive a salary, he needs to go through 6 months of training and to sell his devices. Gardner is a career-defining role for Will Smith. This movie is one of the important milestones in his career.
Burnt  is a movie related to the field of culinary arts and hospitality. It is based on Adam Jones' (Bradley Copper) struggle to get back to the business after a long break in his culinary career. We are not all chefs. Many of us can cook, some can prepare meal that are edible while some can barely do that, while some are quite good at cooking. But not all of us are chefs by profession.  Not all of us can prepare and present meals enthusiastically, the way they can. But who would not like to master or have the amazing skills of cooking and presentations that they have and that enthusiasm to prepare and present delicious meal everyday? I cannot help but admiring them who has the art of cooking and presenting meal with that level of perfectionism. It takes time and more importantly interest and passion to master the art of cooking and food presentation. I like this movie. Very few movies are based on culinary arts and hospitality management. The way they chop vegetables, the rushes in the kitchen, the sounds of plate and glasses and spoons just makes you want to get up and cook something in a Chef style, or at least make an attempt close to that. Simple, if you want to do something in a professional way, do it in a professional way. Try to imitate the professional way. Think, how would they do it if they were in your place. Think yourself as a professional. Fake it until you make it. Definitely, one cannot get to become a professional in a subject matter just overnight. Because, the professionals have spent unlimited time and days and nights in it. On the other hand it's also true, one can be a multi-tasker and a person can have multiple qualities at a time. There is an old adage, "A person who knows how to cook, should also know how to tie their hair".  A successful doctor, engineer or business personnel can repair their cars themselves if they know the ins and outs of their cars and how to repair. And getting to be an automobile junkie is attractive. All one needs is the eagerness to learn, 'how to'.
Back to the movies, Bradley Cooper was brilliant in this movie, he was the center of attraction and the main inspirational character in the film, it is the way his character gets beaten up, frustrated yet bounces back and tries to adapt to the new and modern ways of culinary arts, techniques and equipments that will attract the mind of the audience and Sienna Miller played her character beautifully and supports his character. We must also mention Uma Thurman's short yet attractive on screen appearance and bizarre yet charming and witty character is another attraction. Daniel Brühl's earlier character that he played his role so realistically in Inglorious Basterds,( young German soldier who fell in love with Shosanna) was may be however suppressed by the lights of the big stars in this movie. But he played the role of a negotiator to bring Helene (Sienna Miller's character) back to the business, when she and Adam had a severe argument. 
An unemployed single mother who goes through immense struggles and achieves success through her hard works.  She becomes a legal assistant and almost single-handedly brings down a California power company accused of polluting a city's water supply.
The way Jaguar Paw and his family strives, struggles constantly and fights back and survives till the end is fuel for any budding entrepreneur who is having days so difficult they can hardly cope up. The film is brutal and shows the way the common people of different tribes were kidnapped, tortured and killed, taken as hostages and sacrificed at the ancient Chitchen Itza. The movie is full of suspense and thriller. The prime essence is to keep struggling and surviving at the end. It's a good watch for the ones who need motivation. It may be a feel-bad movie with a good ending, but there are lots of things to learn from it, I must say.
Sales and any public relations based fields are constantly throwing you challenges because you work with people on a daily basis.  Business personnel no matter in which field he is in, he is a salesperson and he is a PR manager because he constantly manages relations with people, he constantly sales his business to people. So, this movie is a good watch for entrepreneurs. Interpersonal relations never goes smooth every day and all day. Some days are really good and other days are not. Some day there is a massive success in sales.
Tom Cruise plays the role of a sports agent who gets fired by an employer for expressing his righteous beliefs and thoughts, and decides to put his newfound philosophy to the field as an independent agent and starts working on his own.
A U.S. fighter pilot's epic struggle of survival after being shot down on a mission over Laos during the Vietnam War. imdb.
Christian Bale performed undeniably well in this movie. It is based on the struggle of a stranded American soldier who got arrested during the Vietnam war. The best moment in the movie when Christian Bales says, "Hey, I sh***ed my pants out." The movie is focused mainly on the personal struggles, hardship, physical pain and difficulties and tortures he goes through. I watched this movie 10 years ago. I do not remember every single detail.  But I can say, that struggle can lift one up.
Forrest Gump
Life is a box of chocolate, you never know what you're gonna get.
Forrest Gump is a story of a boy Forrest, who has a troubled childhood friendship cum lover  who is abused since childhood by her father. Despite not being intelligent, Forrest Gump has accidentally becomes a successful entrepreneurs and witnesses many historically significant moments from up close but when it comes to love, his true and only love deludes him all his life.
 It's a feel-good and a feel-bad movie at the same time.
 Fedex employee gets stranded in an abandoned island. He constantly struggles to stay alive so he someday can go back to his wife. Her memories keep him alive throughout the time. He paints faces and makes friends with a football. He talks to it and makes himself feel that he has a friend. 4 years later when he is rescued, he comes back to his old city, to find out that his wife married another man meanwhile (as she got to know that he died in an airplane accident) and everything changed, except that she still love him somewhere deep in her mind. He is in a crossroad, now he is really a castaway. But life goes on.
An inspirational movie for those who wants to prosper in food industry, for those who want to do well in blogging and internet entrepreneurship, for those who want to write and publish their writings. It is overall an inspirational film for an entrepreneur. It is highly recommended. The parallel way of showing the lives and struggles of two protagonists Julia Child and Julie Powell was praiseworthy. Veteran actor Meryl  Streep's acting was as usual, the prime attraction of the movie. Amy Adams played her role beautifully as well. Paul Child was another strong and important character in the movie who supported his wife throughout the time, the character was played well by Stanley Tucci.  Chris Messina  played nicely the role of Julie Powell's husband Eric, who supported the character of Julie when she was having tough time. It is a must watch for any entrepreneur. It is also an inspirational movie for women who want to become entrepreneur or want to use their cooking skills in business.
Great depression begins in boxer Billy's life with the sudden tragic death of wife Maureen Hope. He loses the custody of his daughter and faces a massive career fail. With the help of coach Wills, Billy struggles hard to get back on track and back to the ring.
Some people generate a positive energy, whether the way they speak, or they talk, or they walk with confidence, or the way they dance with enthusiasm. In this movie Aaron Eckhart does that so well that you won't deny that after you  watch this movie. He is the basic reason why 'No reservations' adds to this list an extra attraction. The best thing about the acting skills of Aaron Eckhart is, whenever he does any role, he makes you believe that he is actually like that character that he plays in his real life. Remember, in Dark Knight, he played Harvey Dent so well, it seemed in real life he is a snob, his nose is always in the clouds. You think he would do perfect as an arrogant and proud insensible congressman, lawyers, or policement or psycho serial killers but wait and watch this movie. You are wrong if you think he is good for playing only the "crazy in the head" or psychologically ill characters. His performance in 'No reservations' will change that idea all over.
In 'No Reservations', Aaron Eckhart playes the role of Nick, he is a Chef by profession. He is healthy, he is a good Chef, he is smart, he is always smiling and speaking enthusiastically even with a complete stranger and when people try to ignore him he doesn't get bothered a bit. He is a person who changes the gloomy atmosphere entirely the moment when he steps in to a house. He generates that good vibe.
This is yet another movie related to food industry and mainly chef and culinary artists' life and everyday works and relationship management with their people around them.
A master chef, Kate (Catherine Zeta Jones), runs the kitchen Restaurant in Manhattan. She is a controlling authority, she has a zero tolerance for nonsense and indiscipline which both mesmerizes and intimidates everyone around her. She is a perfectionist. With breathtaking precision, she manages each hectic shift with perfections,she constantly checks the preparations of hundreds of meals, drinks, appropriate sauces, salads and side dishes, seasoning and simmering each dish to get the perfect taste so the customers don't forget it once they taste food melting in their mouths.
Suddenly, she has the responsibility of taking care of her niece, while Nick comes along and offers to help her in her struggle.
Honorable Mentions:
Sultan (Bollywood, starring Salman Khan)
Wanted (Starring James Mcavoy)
Catch me if you can (Starring Leonardo Di Caprio)
---
article was written by cwr
img source: internet and imdb
—
We hope your day went well. We hope you watch the 16 Motivational and Inspirational Films for Entrepreneurs to Watch listed by Snaild. And let us know if you liked the list through commenting below. Thanks for reading. Have a nice rest of the day. 🙂